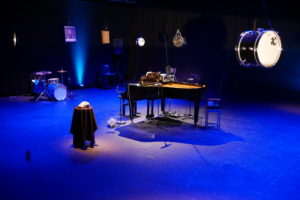 The Orchestra of Speech is a part sound installation, part instrument, one-man-band performance concept coming out of my doctoral artistic research project entitled The Music of Language and Language of Music.
The project was carried out between 2013-2017 at the Music Department of the Norwegian University of Science and Technology (NTNU) in Trondheim, as a part of the Norwegian Artistic Research Fellowship Programme.
This project explored the musical features of spoken language, in particular the relationship between conversation, interaction and musical improvisation. The instrument system was developed as the main method for this exploration, and is based on software patches for analyzing, extracting, arranging, interacting and improvising with the musical content of speech in real-time. The software is connected to a setup of transducers mounted on acoustic instruments, resulting in a hybrid electro-acoustic one-man orchestra, exploring the differences between speech and music, electric and acoustic, and between the virtual and real.
The project is documented online at https://orchestraofspeech.com
---
Solo improvisation with the Orchestra of Speech performance concept:
Video: Alice Winnberg
---
Performance info
The performance setup is flexible regarding setup and can be realized in a number of different versions according to venue and available space and equipment:
Black box / gallery space with a piano, sound system, and acoustic instruments hanging from the ceiling or lighting trusses (as in this picture ).

If the venue is a theater with a stage, the transducer-instruments can be hung from boom mic stands placed on stage (as in this setup ).

If no piano is available, the performance can also be realized using only electronics and a selection of the transducer instruments (see the Stage plot for compact setup)
Technical requirements
Stereo sound system
Depending on venue and if available: piano, drum set, acoustic guitar, 2 small radios with aux input